Creative Themes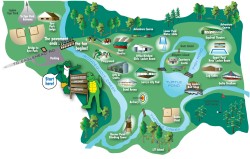 The Ideal Day Camp Experience in Perinton, NY
By Debra Ross, Publisher, KidsOutAndAbout.com
(Updated May, 2010)
Imagine a family-run summer camp right here in the greater Rochester area that has been in business 25 years, a camp that is so popular that it doesn't need to advertise because returning campers and word-of-mouth fill the camp by February 1, a camp that can pay its counselors above the going rate because demand sets the price a bit higher than average, a camp whose activities stress self-betterment and cooperation rather than competitiveness, a camp where the only certain way to get your kids in is to have sent them last year.
Now keep imagining, because it's almost certainly too late for your child to get in this summer. (Except if you have a preschooler; those often don't fill up until later.)
The camp is Creative Themes Day Camp, and it is one of the best-kept summer secrets in Western New York. It was started 27 years ago by Bob Remis and his brother Tom. My daughters have attended in the past few years in both preschool and elementary-age programs, and they agree with my husband and me -- for different reasons, of course -- that Creative Themes is one of the most professionally-run camps we have encountered.
Set on 25 acres in East Rochester in the town of Perinton, Creative Themes' location at the confluence of Irondequoit Creek and Thomas Creek make it ideal for summer adventurers from preschool through high school. Bob still serves as the camp's lead Adventure Program instructor, a lifeguard, and Water Safety Instructor, and his skills in magic, juggling, comedy, fishing, and canoeing are in demand throughout the summer. Bob has three grandchildren that attend camp and should someday continue the family tradition of operating a great summer camp.
Kids and counselors alike adore Creative Themes. Of the 55 staff members, 30 had been campers at some point in the past, and 85% of counselors return the following year. The 2007 staff had over 500 years of Creative Themes experience either as a camper or staff member. The staff works hard to ensure that the Creative Themes experience is one that kids will remember for years to come. Each week immerses the camp in a new theme, combining indoor and outdoor activities to interest and excite the body, mind, and spirit. "My customer is the kid, not the parent," Bob's daughter, Denise Bellavia, Camp Director, told me. "As we prepare activities for the year, the main question I ask myself is, 'What would I want my son (Ryan, now age 7) doing when he is at camp?'"
Denise knows what she is talking about, because she has been involved with Creative Themes for much of her life. During the past 25 years, she has served in the capacities of camper, Leader-in-Training, Counselor-in-Training, and Counselor. Not only is she the Camp Director, but also the Admissions Coordinator and Health Director. Denise, who has a degree in child development, also teaches first aid and CPR.

Themes for 2010 include "Color Wheel," "Things that Go", and "In Your Wildest Dreams" for preschoolers, and "Adventures All Around," "CTunes," and "Game Frenzy" for school age kids.
For more information, visit their web site at CThemes.net.
###
©Debra Ross, 2004, 2008, and 2010