Cardboard City 2010 in Rochester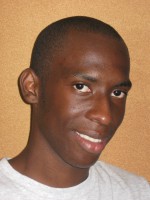 A Guest Article By Ezekiel Devon Samuel

Member of Rochester Bureau of Recreation's Youth Voice One Vision
Cardboard City Boosts Awareness of Youth Homelessness
In the city of Rochester, youth homelessness is a growing problem. If you look around when you walk the streets of Rochester on Chili Avenue or Joseph Avenue, you can see the large numbers of young people chilling around the city because they have no place to go.
In 2009, statistics provided by the Rochester-Monroe County Youth Bureau found that 800 youth were placed in emergency housing. The public needs to understand the issues of homelessness within the youth here in our city. Not having a place to sleep, eat, or be loved can be hard, not only for the youth but also for the people in our community who really care. When will the time come that we stand up and fight this issue? How about now!
You always hear the quote "one voice can make a difference." But what about a whole group of youth? Could they make a much bigger difference? Yes, they can!
Cardboard City 2010: August 13-14
For one night, on Friday, August 13, 2010 starting at 5pm, the City of Rochester Bureau of Recreation's Youth Voice One Vision (YVOV) youth council and the Rochester Monroe County Youth Bureau's Youth As Resources (YAR) board present their second annual Cardboard City Lock-Out at Washington Square Park, located in downtown Rochester across from the Geva Theater.
Cardboard City is designed to enlighten the public about the issues of youth and adult homelessness. It is called Cardboard City because participants spend the night outside in cardboard boxes. The goal of this event is to have 75-100 teenagers participate, which informs both them and the general public about homelessness here in their city.
The event's youth organizers are also requesting that businesses, agencies, faith-based organizations, and community members get involved by donating material items or gift cards to purchase hygiene products and other requested items for the Center for Youth, the Crisis Nursery of Greater Rochester, House of Mercy, and Alternatives for Battered Women. (Please see the wish list for requested donations.). All donations will be distributed among the shelters.
Cardboard City Organizers
"Youth Voice, One Vision" is a youth council run by the City of Rochester's Bureau of Recreation. It currently has more than 75 active youth members. The group meets as a full council monthly, while their 12 board members meet multiple times each month to plan events such as Cardboard City. "Youth as Resources" is a youth philanthropy program of the Rochester-Monroe County Youth Bureau with more than 15 active youth board members. This program awards youth groups with $1,000 grants to help them perform service learning projects. Both groups are youth led and have been in existence for more than 15 years.
In 2009, YVOV and YAR came together with Nazareth College Community Youth Development students to put on their first ever Cardboard City. Cardboard City had such a tremendous turnout last year YVOV and YAR decided that it had to occur again.
Donations
Donations are now being accepted at the Recreation administrative office (400 Dewey Ave., 1613) and at local recreation centers. If you wish to make a monetary donation, please make checks payable to Coordinated Care Services, Inc. (YAR's fiscal manager) and mail to:
Youth As Resources
435 East Henrietta Rd.
Faith-3-West
Rochester, NY 14620
YVOV and YAR are also looking for additional businesses and agencies to host a collection jar or a donation collection box for this effort. Your generosity in this regard would be greatly appreciated by YVOV, YAR, and the homeless shelters our team will serve. Donors will also be recognized in all distributed media for and at the event.
YVOV and YAR members Queen Swank, Kaisean Roseboro, Unique Fair, and I presented Cardboard City at an Community Asset Partners Network meeting, and they were able to get more groups involvement for the second year. Cardboard City has become the talk of the city. Please talk it up amongst yourselves, your families, your kids, and your co-workers, and help us make it an even better event this year.
Ways to Participate
If you are own a business, participate in a community group, or are a parent who would like to participate in some way in our efforts to elevate awareness of youth homelessness, see our Participation Information Form.
Please donate! This is a PDF file of the Wish Lists of the agencies we are supporting.
***************