Family-Friendly Baltimore Harbor, Page 2
...Continued from Page 1.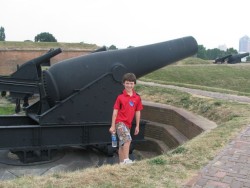 Perched on the mouth of the Inner Harbor, this moat-encircled, pentagon-shaped fort is a fantastic place to brush up on early American history and infuse the family with a fresh dose of patriotism.
A British naval attack on Fort McHenry in 1814 prevented the capture of Baltimore and inspired Francis Scott Key, who watched his fort come under attack from the brig of a British naval vessel, to write the "Star Spangled Banner."
We started our tour in the Visitor Center, where I convinced my husband and kids that we should wait for the next showing of the 15-minute introductory movie. Good thing, too. The somewhat corny movie explored the fort's role in that pivotal battle, and has a moving finale that's sure to impress, especially if you love your National Anthem as much as I do.
Though it was blazing hot, the kids loved exploring the bastions with their enormous cannons, the powder magazine, the jail, and the barracks where re-enactors in period dress chatted about the "upcoming" attacks.
If you go: Fort McHenry, 2400 East Fort Avenue, Baltimore, MD 21230 | 410.962.4290. The entrance fee is $7 for adults age 16 and up. Open 8 am to 8 pm in summer.
Other Baltimore Inner Harbor Attractions
Hint: Check out the
Baltimore Harbor Pass for discounted admission to these attractions.
Food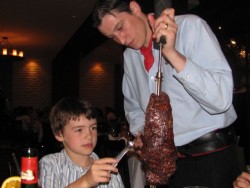 Fogo de Chao
Food (especially Maryland crab cakes!) is one of the reasons people come to Baltimore. Yet it seemed to us the closer you are to the harbor, the more chain restaurants outnumber local fare. So when I saw that Fogo de Chao was just a five-minute stroll from our hotel, I decided to treat the family to what can only be called "the Fogo experience."
Fogo is an upscale Brazilian steakhouse where gauchos bring skewers of freshly roasted meat to your table. The gaucho, who wears a button-down shirt, a fancy red ascot around his neck and dark pants tucked into tall leather boots, asks which cut (rare, medium, well) you prefer, then expertly carves a slice of meat and invites you to pluck it onto your plate using silver tongs.
You're given control over the fast-paced service with a small, round chip; place it green side up to signal the gauchos to bring more meat, place it red side up to signal them to stop. Fogo also boasts a world-class salad bar, a sumptuous buffet of gourmet salads and fresh cut vegetables with an array of fresh, hard cheeses and epicurean delights such as smoked salmon, prosciutto, roasted red peppers, and olives.
My kids are terribly picky eaters. Sure, they like steak drizzled in A-1 Sauce, but good food and rich dining experiences are usually lost on them. Our night at Fogo de Chao was a grand experiment to see if indeed, we could actually enjoy a nice family dinner where no one fought, whined, complained, protested, or was sent to bed early.
The entire evening, from the parmesan cheese puffs to the Brazilian soda to the salad and the meat, was full of flavor and harmony. My eldest loved his salad so much he said "This is the best salad I ever had!" The succulent, tender, and juicy cuts of meat appealed to both kids.
Not once did I have to tell the boys to stop banging their forks OR tipping their chairs. Instead, I heard "I LOVE the way this restaurant works! This restaurant is AWESOME! Can we come back here again?"
And thus, Fogo passed the test as a family-friendly restaurant.
Take a full culinary tour of our Fogo experience on my blog.
If you go: Fogo de Chao, 600 Pratt Street #102, Baltimore, MD 21202 | 410.528.9292.
Other Baltimore Inner Harbor Restaurants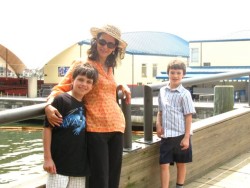 Other Cool Stuff
50 Free things to do in Baltimore
*****************
© 2010 Laura Kammermeier