Half-Plate Healthy

Ease into Healthy Eating
Wegmans Food Markets and Excellus BlueCross BlueShield are championing half plates and healthy portions

One tip to healthy eating is to pile veggies, fruits and salad onto half of your dinner plate, filling the rest of your plate with anything else. You would do the same when you go for seconds or dessert.
Wegmans Food Markets and Excellus BlueCross BlueShield are championing ideas such as "Half-Plate Healthy" as a way to help families reach a healthy weight.
"In 2007, Cornell University researcher Brian Wansink suggested we share the half-plate tip with our employees. It worked!" said Jane Andrews, a registered dietitian who manages nutrition programs for Wegmans. "Folks told us that the entire family got involved and that this became the first step to other lifestyle changes and better health."
To help families eat healthy portions, Wegmans and Excellus BCBS are also co-sponsoring "Half-Plate Healthy" placemats available in Wegmans stores.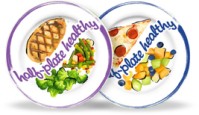 Several studies have shown that increasing plate sizes and portions of food could cause people to consume more calories, according to a new Excellus BCBS report, The Facts About Healthy Portions.
The average plate at a restaurant, for example, has increased from 10 inches in diameter to 12 inches, according to the report. Many prepared foods such as cookies and cooked pasta exceed federal agencies' recommendations for standard portions.
"Larger portions that result in families consuming excess calories are a big concern given the growing obesity epidemic and the fact that you gain weight if you consume more calories than what you exert," said Amanda Shanahan, a registered dietitian and Manager, Health and Wellness Programs, Excellus BCBS.
"Being healthy is about making sensible food choices and being active, but it's also about consuming healthy food portions," Shanahan added.
"Half-Plate Healthy" was one of several steps to good health listed in the report. Other recommendations included keeping unhealthy foods out of your line of sight and splitting large food packages into smaller containers.
Resources
To read more about healthy portions and healthy eating, go to wegmans.comand excellusbcbs.com.
To access Excellus BCBS' fact sheets, including The Facts About Healthy Portions, go to excellusbcbs.com/factsheets.
# # #



****************************