Interview with John Yoo, coordinator of Scholastic's 39 Clues online game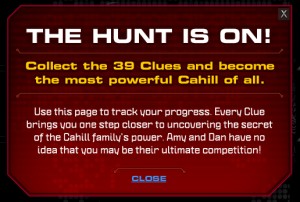 John Yoo is Director, Strategic Engagement at Scholastic.
KidsOutAndAbout.com: When Scholastic first conceived of the 39 Clues series, was the idea for the game site integrated immediately, or did that emerge later?
John Yoo: Yes, the whole property was conceived from the very beginning with the books, the cards and the website all working in concert. But with that said, we've been very flexible, making lots of changes from our original thinking as we watch what our users respond to on the site. A great example is the agent card builder. Giving users the ability to create agent cards with reusable codes was not part of the original plan but as soon as we came up with the idea, it was a no brainer.
KidsOutAndAbout.com: Tell us basically what kids do in the online game, and how the game interacts with the books. How does each enhance the child's experience of the other?
John Yoo: In the same way Dan and Amy are on the hunt to find the 39 Clues, kids online are on the same hunt. In fact, kids online can uncover each and every clue. There are also 10 Missions that relate to the characters and/or locations from books and cards. As kids play the missions, they learn more and more about characters in the Cahill world. There are obviously the cards, [physical cards that readers can purchase --ed.] which is a treasure trove of information. Each card has unique information that is revealed once kids enter the codes online. All this information builds a deeper understanding that all comes together in the final episode. As you read this you will see a major interface change that will make the pulse of the hunt clear and palpable!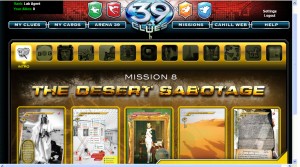 KidsOutAndAbout.com: One of the reasons I approve of my kids' online experience with The 39 Clues is that it seems to engage the conceptual part of their brains rather than simply their reflexes. They enjoy the game, but don't get addicted to it in the same spaced-out way they might with other online experiences or preteen social clubs. I assume you designed it that way on purpose, right? What were your main goals?
John Yoo: Thanks, I'm glad you feel we are respecting kids' intellects. That was definitely one of our primary goals. Everyone on the development team is passionate about what they do and we all had childhood memories of great books, movies, and video games that helped shape that passion. We wanted to give kids the same depth of intelligence, where kids could keep digging and digging. The 39 Clues is an adventure series that also teaches kids about world geography and famous figures in history, and we've designed the game site to make the content interactive and fun for kids, making it a fully immersive reading experience.
KidsOutAndAbout.com: How much collaboration between Scholastic's departments occurred during game development?
John Yoo: Collaboration is an understatement. Editorial, design, application development, marketing, publicity, licensing, legal, international, etc, etc. We all basically lived with each other during production. We still meet quite frequently to discuss site updates and new feature reviews. But we've gotten into a great rhythm and we are pretty good at channeling each others' needs.
KidsOutAndAbout.com: Does it take a team to maintain the site?
John Yoo: Yes, quite a team. We have producers, game designers, graphic designers, usability folks, application developers, and analytics.
KidsOutAndAbout.com: What are the plans for the site's future, as the series wraps up with the publication of Book 10 this summer?
John Yoo: We've got tons planned for the final episode that begins when Book 10 is released. But I'm sure you realize I have to be a bit vague or the Cahills will be upset. We are not only culminating the property with book 10 but we also have contests and sweepstakes running all over the world with a grand prize of $10,000. We'll be making sure kids have tons to do once all books are available. We're all very excited about what's coming up!
KidsOutAndAbout.com: Thanks so much for taking the time to answer our questions!
Readers can click directly through to the online 39 Clues game at The39Clues.com.