Music Review of Enter Sandbox from StarFish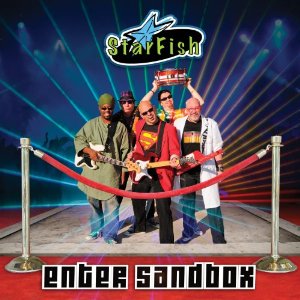 StarFish
The Coolest Rock Band for Kids
Releases Hot New Album
Just in Time for Summer 2010
by Debra Ross, Publisher, KidsOutAndAbout.com
Here at the House of Ross, we listen to all kinds of music, all the time. We listen to rock, jazz, classical, folk, Latin, gospel, "world" music, and we even put on The Rappin' Mathematician now and again. My husband and I are classic rock fans, of slightly different eras--he's a child of the '70s, and I'm a child of the '80s. So when one of us is driving with the kids, we often turn on our favorite radio stations.
And then we turn them right back off.
When I was a teenager, I listened to the radio so much that I still know the lyrics to all the top songs from 1982 (they're probably replacing much of Mr. Spinella's American History lessons). But listening to music as a teenager is radically different than listening as an adult with kids in the car. Nowadays, I actually listen to the words. I often cringe and glance into the back seat, hoping it's going over my kids' heads. But, darn it, rock music is richly varied, and there's so much to talk and learn about...if only I could filter it to be fun and funny and appropriate for kids.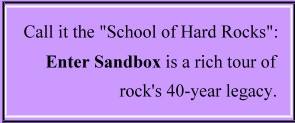 Enter Sandbox (its title is a nod to Metallica's "Enter Sandman") is the second album from StarFish, a rock-and-roll band for kids. The band members, five guys from New Jersey, are all professional musicians, and all dads. They, like all modern parents, have sat through ad nauseum repetitions of plink-a-plink nursery rhymes and other pablum designed for babies and little kids: songs with lessons, you know, or little ditties about animals.
That kind of music undoubtedly has its place in a child's development. But when kids graduate from that and want something they can have fun with as they grow, they typically encounter a void between kids' music and adult music. Although mid-to-late elementary age is the perfect time to nurture a child's hunger for learning about great music, rock-and-roll lovers and their kids are left at the mercy of the DJs who are thinking of an adult demographic. So we turn on the radio, and before we know it we're all singing George Michaels' "I Want Your Sex." Eek! Fortunately, StarFish has just what my kids need, and what parents want.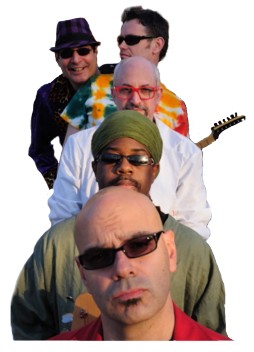 Enter Sandbox is more than just a fun album for kids that parents will like as well. Call it the School of Hard Rocks: Enter Sandbox is a rich tour of rock's 40-year legacy. From the Ziggy-Marley-inspired reggae "Sick Day," to "My Name is No," which has echoes of the Red Hot Chili Peppers, to a cover of Sweet's 1972 "Little Willy" from their glam rock days, StarFish shows kids and reminds adults how varied the genre really is. Listening to Enter Sandbox, I hear Yes and Steppenwolf and a little Pink Floyd. I'm not typically a punk fan, but even I have caught myself singing "Rhymes" in the shower because the lyrics are so clever and its message is so good. We've had Enter Sandbox in the car playing constantly for three solid weeks (which tells you a little about our enthusiasm for the album), and I have already used it as a springboard for showing the kids more all about different kinds of rock. (A great reason to say hurray for YouTube. Here's another: StarFish's video from their first album, Rocks: Stop, Drop, & Rock & Roll.)
The members of StarFish didn't just pick up their guitars recently to slap together a band to meet the growing needs of the market -- no, all of them are professional musicians who have been at this in one way or another since childhood. I should know: I sat next to keyboardist Dr. Yes (Mark Asch) in high school chemistry, and he was always our go-to guy when someone needed original music. (I still have his first "tour" t-shirt, "Over the Edge.") (I can also tell you that the part where he sings about himself in "My Name is No" is absolutely true.) Other band members StingRay (Ray Leone, lead vocals and guitar), Grateful Dave (Dave Hartkern, drums), Moose (Marc Stern, lead guitar), and AntFarm (Antar Goodwin, bass) are similarly talented. And goofy. Really goofy. As they were in their first album, Rocks.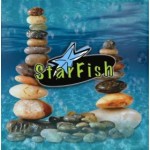 Yep, Enter Sandbox is replete with all different levels of humor. You've got your requisite potty jokes (e.g, "My Name is No") which sends your typical 8-year-old boy into stitches. But the humor is much deeper throughout the album, in ways that adults really appreciate. And, you'll love how it perplexes your kids. They'll ask you why you're laughing. You'll be too busy trying to get a grip, so you won't answer. And then they'll insist that you pause the album and explain. But how can anyone explain to a child how "Learning to Rock" sneaks right up to the edge of using AC/DC's "Highway to Hell" but doesn't, quite, and that it's hilarious? You can't, so you'll just keep giggling and turn it back on.
Speaking of which, "Learning to Rock" is our hands-down favorite song on Enter Sandbox. Your kids are going to want to hear it again and again, and you'll be happy to oblige them. Why this one in particular? Well, you know how you get a little zinger each time you get a joke that has a buried cultural reference? "Learning to Rock" is just one zinger after another, 18 of them, actually, because the entire song strings together lyrics from the 70s, 80s, and 90s. For those who are being driven nuts by not knowing all the references, I have published the official Cheat Sheet of StarFish's Learning to Rock References. But don't peek until you've given it your best shot.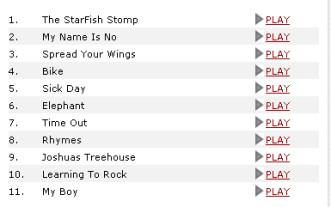 If you don't find "Learning to Rock" funny enough to listen to over and over again, well, I can't help you. No one can, really.
But don't just take my word for it: Give a listen! You can hear snippets of all of StarFish's original Enter Sandbox songs on the StarFish web site here. Turn up the volume. And if your kids want more, check out the YouTube video, and then order yourself Enter Sandbox, and maybe even StarFish's first album, Rocks. Heck, you could even use it as a lesson in fiscal responsibility and make the kids take it out of their allowance; at only $10 (sometimes $8.99 on Amazon), it will hardly make a dent.
************
© 2010, Debra Ross