Review of Disney on Ice: Princess Classics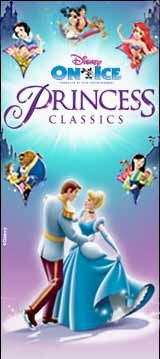 Rochester, NY, January, 2010
By June Santini
"You want to be a Disney Princess?" I incredulously asked my 15-year-old. "Yes! Who wouldn't want to be a Disney Princess?" she replied. And so it was with high expectations and a bit of trepidation about the state of affairs of my teenager's thinking that I set off to see Disney Princesses on Ice at the Blue Cross Arena with a pair of 15-year-old girls and an 8-year-old girl. We were not disappointed.
A little bit of Disney magic has come to town. The production values of Disney on Ice: Princess Classics are so high that any chance of the show going over to the cheesy side was completely overcome by great lighting, a soundtrack that closely mimicked the movies on which the Princess story lines were based, and incredible set designs.
The show opens with Tinkerbell sprinkling a bit of Pixie dust over the arena, as if magically to transform the setting to an enchanted kingdom. The audience was composed largely of girls under the age of 7, but also included some boys and more teenager girls than just the two I brought with me.
This is clearly a show that appeals to the Princess obsessions of little girls more so than their interest in ice skating. Adults will appreciate the pairs skating, ice dancing, and complex choreography of larger groups of skaters. While the skating is not of Olympic caliber, it is technically proficient and interesting to watch.

The Disney Princess stories highlighted were told with varying degrees of detail, some of them including large production numbers. Aladdin was a particular favorite of the crowd, with its ice skating elephant and flying carpet. The seven dwarves, with all of their silly antics were also a lot of fun.
The ultimate Disney Princess, Cinderella, was the focus of a well-developed second half. The finale did not disappoint, with all of the princesses and their princes making reappearances along with Mickey and Minnie.
I heard lots of kids enthusiastically talking about their favorite numbers in the show on the way out. Asking my own daughter what part she liked the best, she replied, "Are you kidding me? Every part was my favorite part!" If you're the parent of a 5-year-old or a 15-year-old, Disney on Ice: Princess Classics will be worth the trip.
___________________________
Disney on Ice: Princess Classics is playing at Rochester's Blue Cross Arena until Sunday, January 17, 2010.
©2010, June Santini