A review of "Our Body: The Universe Within"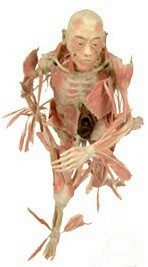 Our Body: The Universe Within
At the Rochester Museum & Science Center
Sept 1, 2007-Jan 8, 2008
Reviewed by Debra Ross
When I was 11 years old, my parents bought me a wonderful, thick coloring book about the human body. I would spend hours with my red and blue pencils tracing through the circulatory system. I always loved books about the human body, and even though I did not go into medicine as a profession, I retained enough information about how we humans work to be able to play Dr. Mom with relative confidence. If I happen to flip to a Discovery Channel show about surgery, I'm always captivated.
So, naturally, I was excited when the Rochester Museum & Science Center announced that they would be hosting the popular traveling exhibit, Our Body: The Universe Within this fall.
Those of us who like looking at cool drawings and diagrams of the human body nonetheless have to keep in mind that it doesn't really look like that. Organs are squeezed in among and behind each other, and everything is well, rather gushy (we are 2/3 water, after all). I suspect that it's the sheer sliminess of it all that generates the squeamishness in some people.
Our Body: The Universe Within is composed of small galleries of 12 actual human specimens and 75 additional anatomical displays. The specimens in Our Body have been preserved with a "polymer impregnation" process that replaces fluids with polymers that prevent decay and decomposition. It is perfectly dry, so the "disgust" factor is radically reduced, which will make the exhibit accessible even to those who can't watch "Trauma: Life in the E.R." on TV.
The anatomical specimens are provided by the Museum of Life Sciences Project, located in Beijing, China, founded for the purpose of supporting educational and medical research in support of anatomical sciences. (I have not yet been able to discover how the specimens were obtained; I'll update this when I find out that answer.) Several versions of this exhibit are on display in different parts of the U.S. The exhibits in Detroit and Orlando have both proven so popular that they are "held over by popular demand" through Fall 2007 in both these cities. The tour is organized by The Universe Within Touring Company.
"The opportunity to host Our Body: The Universe Within came up quickly," states Kate Bennett, RMSC President. "In making the decision to bring this exhibition to Rochester, the Rochester Museum & Science Center took a thoughtful approach, involving a thorough process. Medical experts and scholars were consulted, and highly endorsed bringing the exhibit to this region."
The display is on the third floor of the RMSC, in a separate, closed-door section that starts at the top of the main central stairs. It is arranged in about six "galleries" within the section. There is soft lighting, and a hushed atmosphere that adequately conveys the respect due to the subject. The prenatal section of the exhibit is presented in an almost-closed paneled "room" so that visitors who do not want to see this part of the exhibit can easily avoid it.
Adding to the exhibit is a wonderfully-rich history of anatomical discovery, featuring thinkers like Da Vinci and Galen. Because my kids were much more interested in the specimens themselves, though (and when they were done, they were done), I wasn't able to read through all I would have liked. (I did notice a couple of typos and misspellings on the signs, though, which I attribute to their having been created overseas.)
The exhibit, properly experienced, should take you about 60 minutes to 90 minutes, which is why they time the entrances -- you buy your tickets for a certain time. Speaking of which...
One of my first reactions before viewing the exhibit was surprise at the fact that there is a separate charge for the exhibit, even to members. But Debra Jacobson, Director of Marketing & Community Affairs at the RMSC, let me know that this is part of their agreement with The Universe Within Touring Company. The ticket prices are $20 for adults ($24 if you want to add on a viewing of The Human Body, the large-screen movie at Strasenburgh Planetarium next door, which you do, trust me), $17 for seniors/students, kids (aged 3+) and teens ($20 with movie), and a flat $16 rate for members (movie is free for members). In fact, it's a lower price than is being charged at other science museums around the country. Still, that might feel like a rather hefty price for a decent-sized family. Which brings me to...
Who Should Go?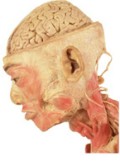 Our Body: The Universe Within should be experienced by anyone interested in the biological sciences. I would say it is primarily an adult exhibit, so I am sure that college students will flock to it. However, my kids (age 6 and 8) were fascinated, and we stayed there for 45 minutes. Admittedly, I know a lot about how the body works, and so I was able to keep up a running commentary that made the exhibit relevant to my kids. Another young lady who was there while we were there, Amy, age 10, wants to be a doctor some day, and she told me that she loved the exhibit.
One interesting idea, if you want to expose kids that age to the exhibit, would be to bring along a book or two on the body. (Or click on this handy link to a bunch of human body informational web sites that you can peruse and print out.) When you're at the exhibit, you can linger at each display, read more about how that part functions, and compare the diagrams in your book with what it really looks like. And any older child who has expressed interest in studying medicine shouldn't miss the opportunity to see what the body really looks like.
There is no question: Parents with young children should leave them outside the exhibit. Bring along a nice babysitter who can stay with the little kids while they play in the rest of the RMSC while you and their older siblings who want to absorb a lot of information take your time. You do not want to spend the money for the exhibit, only to have small people whine at you that they want to leave. If you are a "zoomer" through museum exhibits, it is probably not for you, either. Also, one of the standing specimens (I think they are all male) has some of its skin attached in the relevant places, so if you'd rather your kids not see male organs, this exhibit is not for them.
But if you want to know a lot more about how what is in you works, all that stuff that you have felt through the skin but couldn't really picture...GO. You'll learn so much about how all of the systems of the human body function, and you'll develop a healthy respect for it that (really!) makes you want to take better care of it. I expect I will remember this for the rest of my life, and it's already made me go to the gym more enthusiastically. Smokers, in particular, should see the side-by-side comparison of a healthy set of human lungs and one with lung cancer (if you have a spouse who smokes, drag him or her there!). You've seen the diagrams representing dirty lungs, but it's nothing like seeing it in person.
And see the movie, too!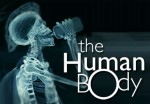 Just about everyone should see the new large-screen movie The Human Body at the Planetarium. It's free for members, otherwise $9/adult,$8/senior, $7/age 3–18. (Another reason why membership at the RMSC is such a great deal!) The film tracks the day of a family living in Great Britain, and with that as a device, it takes you on a great tour of all of the body systems (with astonishing footage of things such as nerves firing, and the chambers of the heart pumping blood, and the stomach digesting pasta salad). It's appropriate for about ages 4 and up...for kids, I would say it's most useful for preteens, as there is a discussion of beginning adolescence. Also, be forewarned: At the end of the movie, the pregnant woman gives birth, and while it (like the prenatal shows on The Learning Channel) is tastefully photographed so you don't see any private parts, those who don't want their kids to see a woman straining in labor should avoid this film.
My advice would be to see the movie first, then see the exhibit. Saturdays, the show is at 2:00, 4:00, 7:00, & 8:00pm and on Sundays it's at 1:00, 2:00, 4:00, & 5:00pm. The RMSC museum closes at 5pm, though. So see the early show (Saturdays at 2, or Sundays at 1 or 2), then schedule your exhibit tickets for shortly afterward.
*********************
To purchase tickets for Our Body: The Universe Within (and you will want to prearrange this if you're going on a weekend), click here.
©2007, Debra Ross