Review: Painted Buffalo Inn, Jackson, WY

The Painted Buffalo Inn: A comfortable stay that didn't break the family vacation budget
By Debra Ross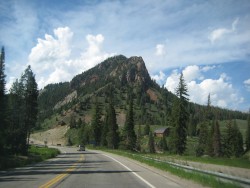 Night #2 of our 2009 Yellowstone Trip was spent in Jackson, WY's Painted Buffalo Inn. Our two families enjoyed our stay, short as it was.
Rooms
Each family stayed in a room with two queen beds. These rooms make no pretenses about being luxurious, but were exactly what we were looking for: Relatively inexpensive for Jackson ($179), air-conditioned with quiet air conditioning, cable TV, clean bathrooms with the minimum toiletries, and, most important for traveling writers, FREE wireless internet that worked. The beds were comfortable. (They passed the David Ross sensitive back test.)
Cleanliness
The rooms at the Painted Buffalo Inn were clean. They were lived-in, but clean. We had no qualms about staying there even from the one white-gloved member of our party.
Staff
The staff were friendly and prompt about supplying an iron when we requested it. The manager and people at the front desk were courteous, solicitous, and seemed pleased that we were staying there.
Recreation Amenities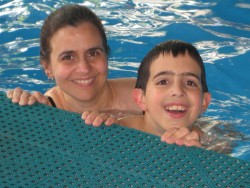 The Painted Buffalo Inn has a lovely indoor pool that was just a quick trip across the parking lot from our first-floor room, and accessible with a code. Utilitarian towels are available. The pool was beautifully maintained, with a nice atmosphere and plants. The kids didn't want to leave. Take a virtual tour of the pool area by clicking on this link and clicking Pool. There is a dry sauna in the same room as the pool. Somehow, the light in the pool area combined for this perfect photo of Tatiana and Dario.
Other Amenities
We were getting up super-early for our white-water rafting trip at Dave Hansen Whitewater Rafting, but even so, the free breakfast was waiting for us.
Convenience
The Painted Buffalo Inn is on the main road into Jackson Hole, on West Broadway Ave. Their directions page leads the uninitiated to believe that it's right downtown, but while this is true in a technical sense, it's not really in the thick of the action. With three kids in our party, we found it more convenient to drive, especially to the Dave Hansen location, which was on the north end of town across the street from the Visitor's Center (which is definitely worth a quick trip inside to orient you to the area), a 1.2 mile drive from the Painted Buffalo.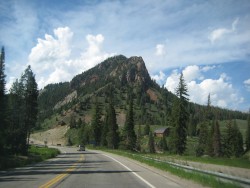 Accuracy of the web site
Sometimes, a web site leads you to think a venue is a certain way, and you end up disappointed, realizing that creative marketing forces were at work. The Painted Buffalo Inn has virtual tours of a bedroom and the pool on its web site; I urge you to use these, because they are absolutely accurate and represented exactly our experience.
All in all, the Painted Buffalo Inn was a good deal, especially for a one-night stay where you are mostly out enjoying all Jackson Hole has to offer. It's not luxurious, but is perfect for a family vacation that means to make the most of its budget. If you are planning to go to Jackson Hole and spend most of your time in a hotel room, then by all means, go more upscale. But then, you don't want to do that--that would be crazy.
© 2009, Debra Ross