Review of "Pieces of Another World"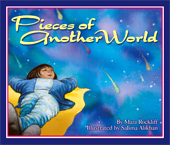 Pieces of Another World
by Mara Rockliff
Reviewed by Debra Ross
Most of us are fortunate enough to have at least one spectacular, once-in-a-lifetime memory from our youth that crystalizes what childhood is about: A sense of deep awe at the wonders of the universe. For me, that moment came when I was about six. A white moth, mistaking the daisies on my green overalls for the real thing, flipped from flower to flower for a minute or two before fluttering off to -- I hoped -- greater success elsewhere. I remember not moving a muscle, hardly daring to breathe. I would never have put it this way at the time, of course, but it was as though my horizons abruptly expanded. I was suddenly a citizen of the world, interacting with it in a way I hadn't been before. There were a million exciting things out there for me to learn, and I was on my way.
As we get older, we typically grow cynical about a human's place in the world. We forget about chrysalises and the dozen different songs of a cardinal and how the first crocus looks in the snow. But then we become parents, and I have heard many a mom relate how it completely changed her perspective. Listening and watching our children carefully, we become aware, once again, of how the universe appears through a child's eyes. We resurrect our inner impulse to explore, to think up questions and find out the answers.
But as daily concerns of feeding and raising our nestlings get in the way, these concerns can fade. So we keep needing to be reminded to see the world as our kids do, not only so that we're paying attention to their needs, but so that we can keep alive the pleasure of discovery for ourselves as well. Books like Pieces of Another World not only awaken our children's imagination, but remind us of this most important aspect of parenthood.
Pieces of Another World (Sylvan Dell Publishing, 2005) is the story of a father and daughter's late-night outing to watch a meteor shower. As the story unfolds, Jody has no idea of where they are going, only that she has been promised "pieces of another world." Her father brings her to an empty field far outside of town. After their eyes have acclimated to the darkness, they snuggle together in the back of their pickup truck. Jody learns how even the tiniest grains of outer-space debris can make their glowing mark on our nighttime sky.
Author Mara Rockliff's vivid prose is matched -- I might even say surpassed -- by Salima Alikhan's watercolor paintings, which evoke the beauty and quiet drama of a midnight trip to "another world." We experience Jody's amazement at how different familiar daytime places seem by moonlight. We taste the jimmies on her vanilla cone, we feel the softness of the blanket on which she lies in the back of their pickup truck. And, best of all from a brainy mom's perspective, we even learn a lot about meteors.
Rockliff could have chosen to have Jody's father answer Jody's questions metaphorically, with fanciful imagery about fairies or American Indian gods or angels. But instead, the author stuck to science. It was probably much more difficult to integrate actual information into her rich prose, but she did so seamlessly, in an accessible way that my 4- and 6-year-old daughters grasped on the first reading, and remembered afterward. I was impressed. And, in a departure from typical children's books, the book includes a bonus "Creative Minds" nonfiction section at the back, with facts about meteors, meteor showers, and comets, plus a fun "comet cookie" activity. I now know the difference between meteors, meteoroids, and meteorites -- which, as someone who strives to be as culturally and scientifically literate as possible, I'm grateful to have had the opportunity to relearn.
I said, "I can't believe something so beautiful is just an ordinary pebble."

"It's not ordinary," he said. "Not at all. That pebble is a 'hey-there' from outer space -- a tiny piece of some distant world."

I thought about that for a while. And then I smiled.
Jody's father understands that real "quality time" is not a few brief moments snatched from a busy day in which the parent temporarily focuses on the child's needs; rather, it is an integrated, constant sustenance of the spiritual needs of a growing human. As parents, it is our job to provide the opportunities for these kinds of moments for our children. Too often, it seems to me, that with the best of intentions to provide our children with a happy childhood, we "think Disney World" rather than simply take the time to draw our family's attention to the wonders right around us. And we forget that what our children crave is not a sensory overload, but a guide to an experience of the world through all five senses. Most of us would not dispute this idea, but a book like Pieces of Another World gently draws our attention back to the right way to do it.
******
Pieces of Another World retails for $15.95 and is available online at that price from Amazon.com and the online store of Lift Bridge Books. As of November 2005, BarnesAndNoble.com has the book for $12.76 ($11.48 for members), and used copies at Amazon.com start in the $10 range (although it couldn't be too used, given that it was just published in September). In my opinion, it is most appropriate for ages 4-8. It is equally ideal for the early elementary classroom and for the home bookshelf.
© 2005, Debra Ross