Review of Smarty Pants' Nursery Rhymes Shared Reading Series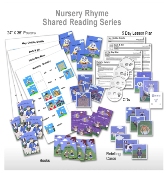 Nursery Rhymes Shared Reading Series
Reviewed by Debra Ross
I was pleased to receive for review the Smarty Pants Nursery Rhymes Shared Reading Series, a four-week reading curriculum. My 6-year-old daughter Ella and I spent several days investigating the materials together.
This early literacy series is designed for children somewhat younger than Ella, although she has not yet developed a bias against nursery rhymes. I would say it's ideal for 4-year-olds. The four weeks of activities use one nursery rhyme per week, and I would estimate that you'd use them for 10-15 minutes per day.
The materials are varied and durable; each nursery rhyme comes with a poster that has the words on it, with big colorful square "clings" (like Colorforms) that are meant to be placed over the words by the children as they're learning to associate a word with the sound and the concept. Each child gets a simply but colorfully-illustrated book with the rhyme that is designed to help him or her relate the words to the action.
Uniquely, each set comes with a music CD, which proves to be integral to the use of the curriculum. The CD has the rhyme set to a very rhythmic rap music, in various forms...sometimes spoken, sometimes with music background, sometimes with words left out for the kids to complete.
Now, I'm not a fan of rap. Ian Anderson, the lead singer/flutist of Jethro Tull, decribed rap as "nursery rhymes with a bad attitude." On the other hand, these are, literally, nursery rhymes with a NICE attitude, and there is no denying that they were Ella's favorite aspect of this program. (The owner of Smarty Pants, Cindy Cantrell, says that kids tend to like the music part best of all.) And once you watch the kids listening, you can see the utility of Cottrell having chosen this style; the beat emphasizes the rhythm of the language better than what an ordinary reader can do.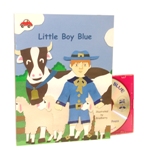 Most important, each curriculum week comes with a curriculum card for teachers, which provides a gradual introduction to the rhyme, and to literacy, over the course of the week. I would never, on my own, have thought of all of the various ways to talk about and use the nursery rhyme and materials, and I have no doubt that kids will find it engaging. Many of the suggestions for activities are best when used with more than one child, so I was not able to test these out, but they do seem like they would be good ways of retaining the attention of a group of, say, 4-5 kids.
I personally have a bias towards the phonics method rather than a whole-language approach. These lessons are not particularly based on either method -- there is some addressing of associating sounds with letters, although not exclusively, and a lot of matching of pictures with words. So I would regard these materials as fun supplements to your reading program rather than as a replacement for it.
All in all, the Smarty Pants Nursery Rhymes Shared Reading Series is most appropriate for a small group of preschoolers who are just learning to associate the printed word with sounds and concepts, although I suspect that if you wanted to use it just with your own child it would go over well, as it did with mine.
The complete curriculum is a little pricey at $350, so the set is probably more appropriate as supplemental information for a nursery school or home preschool when it can be used over and over by different sets of children (the materials seem very durable...no expense was spared in production, that's for sure). Fortunately for the parent, however, you can also buy everything piecemeal. The single-rhyme book and CD set together is, for example, only $9.99.
*********************
©2007, Debra Ross
.