A review of Sweet and Sassy Salon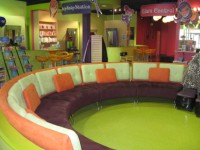 Sweet and Sassy Salon
Pittsford, NY
By Debra Ross
My little princess was turning 7. Although Ella has outgrown most of the princess and fairy costumes that were her staple toys from the age of 2 through 5, she hasn't outgrown the love of dress-up. And she has grown into the love of make-up. I wanted to make her feel special on her special day, and so the two of us took a little surprise trip to the Sweet and Sassy Salon in Pittsford, NY.
I had wanted to make a visit since they opened in the fall of 2007, and I'm glad I finally did. My impression is that the business shares its services about equally between individual salon visits like ours, and parties tailored individually for preschoolers all the way up through tweens.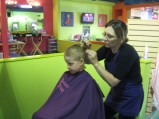 Deirdre Rosenberg, the owner, showed us all around the bright, colorful studio where there was plenty to catch the eye and make Ella smile. The messages are bright and positive, with nothing "too mature" that would make a parent uncomfortable (unless you are very opposed to the "High School Musical" crowd or merchandising designed to catch the eye of girls young and old). We didn't have to wait for our appointment, but with the bright music and friendly atmosphere, even if we had had to wait, we would have been entertained.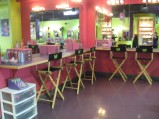 I got Ella the "Glittery Glam X-Press" package which included a hairstyling (she got to pick from four different pictures to choose her style), make-up (very tastefully done, I was grateful to see), and nail polish (she chose red with gold sparkles). Courtney, our girl glamour expert and stylist, was wonderful with Ella, drawing her out in conversation when she was a little overawed by the experience, combing and pinning up her hair expertly, describing Ella's options for sprayed-on "hair scent" (Ella chose cotton candy), and overall doing the perfect job of making my birthday girl smile throughout the time we were there.
This package is $24.95, and took about half an hour from start to finish. They have several other packages, from slightly less than what we paid all the way up through what they call "Diva for a Day," which includes a shampoo, hair cut, 'style out,' 'mini-mani,' mini-pedi, mini-facial, make-up, two nail arts, a ring, and a toe ring.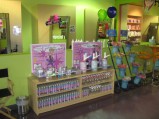 One reason we'll actually be heading back to Sweet and Sassy soon is that it's birthday party season (when is it not?) and we always feel that we're confronted with the same-old same-old choices for what to get as gifts. But when we were at Sweet and Sassy, Ella and I had a good time browsing through a selection of merchandise that you won't find in Target or Wal-Mart. Ella was particularly intrigued by the station where you can make your own lip gloss ($6.95) and lotion ($9.95), choosing the scent and the presentation. That seemed like a great present to her. I also thought to myself that a gift certificate for the "Glittery Glam X-Press" would go over well with just about any of Ella's friends.
Girls who have their parties hosted at Sweet and Sassy have even more options than our individual spa service -- they can dress up in all kinds of costumes, have a dance party with a runway walk and photo shoot, and a special room for cake and presents. Or they could go for a "Rockin' Pop Star" karaoke party that includes a DVD of their performance and a take-home t-shirt. Or even a slumber party with a hair-braiding and knot workshop. There is even an optional limo service with pickup and dropoff. The web site doesn't have pricing, as Sweet and Sassy is a franchise and I assume that prices vary in different parts of the country. But you can call the Pittsford location at 585-586-0570 or email Deirdre at pittsford@sweetandsassy.com. You can also ask Deirdre about their summer workshops, or stop in and get a brochure.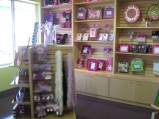 It's true that all of the merchandise is dazzling, eye-catching, and pretty near irresistable. But I've had lots of practice saying no, and I knew I had to steel myself to do it again. But Ella handled it with a lot of grace. And besides, it's hard to whine at a mom who has just brought you to a place that made you feel like a total star.
###