A review of Times Square: A Musical Revue
Stages: A Magical Cultural Journey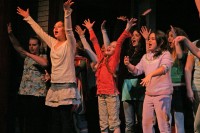 At the Auditorium Center's Upstage3 Theatre
Through April 28, 2007
Rochester, NY
Reviewed by Debra Ross
For me, the phrase "musical revue" has always conjured up images of the tired little sing-and-dance shows they treat you to at casinos or on cruise ships, where they reveal too much skin and too little talent. So I'll admit that I have, up to now, not been inclined to bring my daughters (age 5 and 7) to see A Magical Journey Through Stages, because many of the shows they perform are revues. I figured I'd wait until they did another full show -- their Disney's High School Musical performances earlier this year sold out.
But we had the opportunity to see the show last weekend, and I'm pleased to say that I was as wrong as I could be. My family went to see the Stages performance of their Times Square: A Musical Revue during their opening weekend, and the parents were not the only ones who were thrilled: My kids were absolutely enthralled through the entire performance.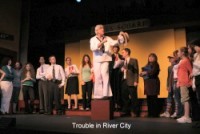 I never would have thought that Madison and Ella would have sat through an evening performance without restlessness or complaint. The show started at 7:30 and ended an hour and a half past their bedtime, at 9:45. But the singing, dancing, and acting held their attention. Before the show, Ella, my 5-year-old, was obsessed with the concession stand (where, by the way, they also have a few healthful snacks and don't scalp you on the prices). She knew she had to wait until intermission for her snack, and I had visions of a long first half with her squirming on my lap, thinking of cookies. But as soon as the show started, the concessions were forgotten. She was entranced.
In fact, I think the simple fact that the show is a revue, with segments and medleys from various Broadway shows, rather than one long show where they must follow a complex plot, is what made Times Square a particular hit with my kids. Some of the numbers were just one song (like "Trouble in River City" from Music Man, and a particularly wonderful rendition of "Saved" from Smokey Joe's Cafe), while some were continuing themes running through the show ("Follow the Fold" from Guys and Dolls) or long medleys with actual stories running through them--the Seussical medley, which is mostly with kids, was Ella's favorite, and (to my surprise) the Phantom of the Opera medley was Madison's. The choreography, which was engaging and varied, really helped tell the stories.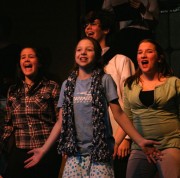 I think another large part of why my girls loved Times Square so much is that about half of the performers were the cream of the crop of local theater kids, ranging from age 9 to 18. Notable in our performance were Lea Polizzi as Mayzie the Bird and Alexandra York as Horton the Elephant in Seussical, and Emma Marshall as Christine from Phantom. Marissa Bland, who is a freshman at Nazareth Academy, was phenomenal in Smokey Joe's Cafe's "Saved."
Stages is not only Rochester's only musical revue ensemble group, but it has a unique mission: Each Stages performance is for charity. That's right: Stages teams up with local not-for-profit groups and charities, and each performance is a fundraiser for one of these charities. Their theater, UpStage 3, is located on the third floor of the Auditorium Center, 875 East Main Street, Rochester, New York. It's a lovely, intimate, 225-seat theater where there is not a bad seat in the house. Working with the charities, Stages provides tickets, ushers, concessions, posters and playbills, and general advertising. They also offer support in assisting each organization in conducting a successful fundraiser. For more information on how to have a successful fundraiser with Stages, click here.
The Stages secondary mission is to nurture and support regionally talented performers, and this they definitely do. Many of the performers have been with Stages for several years, and I have heard nothing but excellent reports of how these young people have grown artistically as a result.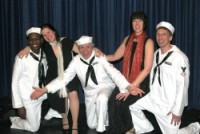 The show did more than hold my girls' attention; it inspired them to discuss just how soon they could audition for Stages themselves, and how hard they would have to work at singing, dancing, and acting to be able to be part of the show. Moreover, the show provided a marvelous opportunity for cultural literacy; Times Square has numbers from 17 different shows, many of which I remembered from performing myself in high school and college. The girls are now interested in seeing Guys and Dolls, The Music Man, Fame, Seussical, and Phantom of the Opera. On the way home, they asked us about what these shows were about.
Watching their faces as my girls were enjoying Times Square, I felt as I have at other times when my girls were thoroughly enjoying something that was thoroughly good for them: the sense that bringing them to this place was a great thing to do as a parent, and that it is only the beginning. I suspect that the cast and crew of A Magical Journey through Stages have provided the beginning of a magical cultural and artistic journey that will bring Madison and Ella pleasure and satisfaction throughout their lives.
Times Square: A Musical Revue runs Fridays at 7:30pm and Saturdays at 2:00pm and 7:30pm at the Upstage3 Theatre on the 3rd floor of the Auditorium Center through April 28, 2007 (though there are no shows on April 6 and 7). For more information, click here for their schedule/ticket page. Ticket prices vary, as the charity decides on the price. They typically do not go over $20.
*********************
©2007, Debra Ross